Language Course : Words Worth - Senior
This is a product ideal for colleges and institutions for higher learning. It comprises of 3 study levels to match the years of graduate study. Each level is comprehensively paced with 70 hours of training alternating between ILT and CBT sessions. Each study level indulges in the key building blocks: scenario-based vocabulary and expressions, pronunciation and grammar for developing essential skills from elementary level to the fullness of language rules. Interactive by nature, activities such as quizzes, role-plays, group discussions and self-assessment stimulate and make learning enjoyable.
Prep I
Beginner: This level develops basic vocabulary and structures required for participating in day to day communication. These basic segments are imparted through Instructor Lead Teaching cum Training (ILT) and Computer Based Training (CBT) sessions.
Prep II
Intermediate: This intermediate proficiency level takes sizeable strides into the realm of speaking polished English. Carefully crafted to balance between how we speak and what we say, developing better communication sills, the focus is on speech sounds, pronunciations, voice modulation and accent correction coupled with grammatical accuracy. The trainee develops accuracy and fluency that leads to confidence building.
Prep III
Advance: This level focuses on enhancing verbal communication skills through free speech, role plays, activities and interaction. Throughout the module, learners participate in GDs, mock interviews, make presentations, etc. this makes them perfect professionals.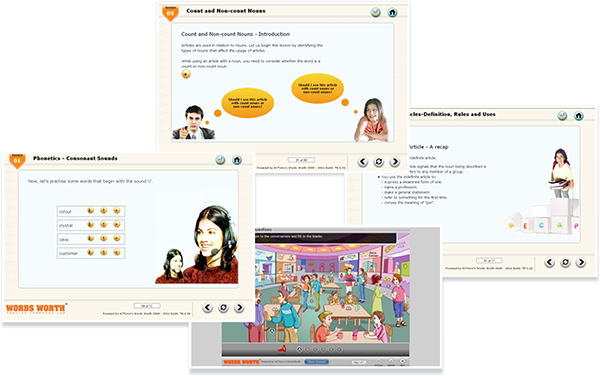 Comprehensive Features
The State of Art Technology
Words Worth offers more than just language instructions like Vocabulary and Grammar. Our ESOL (English for Speakers of Other Languages) programmes improve the much-needed ability to confidently converse (listen, comprehend and speak) with a neutral accent. It's "Live Language" features provide ample practice using an extensive vocabulary catalogue to remedy mother tongue influences (MTI).
Designed for the Indian Subcontinent
Words Worth is developed to meet the requirements of learners of Indian subcontinent. Topics, scenarios and the basic look and & feel of the learning environment are conducive for the learners who are tutored to develop a neutral accent.
Highly Interactive
Words Worth incorporates rich interactive audiovisual elements with several practice activities on speech sounds, pronunciation and other aspects to practise by listening to an expert's voice demonstration. The learner may record one's own voice and compare. An exhaustive glossary is provided.
Self Paced Learning
The programme allows the student to take control of his own pace of learning and to be able to repeat a session for more practice. The privacy of the headset providers the learner freedom from embarrassment and the shyness, and helps him in taking full advantage of the Language Lab to perfecting his skills.
Self-Assessment
Several self-evaluation tools power the programme. Every lesson is followed by relevant activities and exercises to assess the student's understanding of the topic followed with immediate feedback of the performance.
Understanding Native English Language Speakers
Using multimedia audiovisual clips, students can listen to native English speakers and compare their own speech with the native speakers'. Words Worth allows students to practice through a series of activities based on real life scenarios.
Digital Language learning content
Significant to Words Worth are the two content components, one meant for the Trainer in the classroom and the other for the Learner in the lab. The structured digital content is organised into sessions and synchronised across ILT sessions, CBT sessions and the student's courseware.